Long-lasting wearing pleasure
The Peccary, Carpincho, Deer and Nappa leathers that we use for our gloves are some of the finest materials that are available for glove production (read more about our leathers here). With proper care you will be able to enjoy your gloves for many years.
Use and Storage
Gently pull your leather gloves over your hand by switching between pulling the back and the palm of the glove down towards your wrist. Don't push down between the fingers. When you want to take off your gloves, first pull each finger individually and then all fingers at once. We recommend not wearing your gloves on consecutive days, so they can dry completely. Especially cashmere lining can wear off quickly if it does not dry completely between wearings. Make sure to store your gloves on a flat surface, ideally keeping light and dark colours separated, and away from any heat source, such as the sun or heating.
Drying
Avoid rain and water as much as possible. If your gloves do become wet, however, you can dry them on a flat surface at room temperature. Do not dry your gloves on your heater or in the sun, as your gloves might shrink and become brittle. Put on your gloves several times during the drying process so that your gloves can reshape on your hands. In order to restore the elasticity of the gloves, stretch your gloves by carefully pulling them over the edge of a table while holding the fingers of the gloves in one hand and the opening of the glove in the other hand. Afterwards, stretch the fingers of the gloves individually from the root of the fingers to the finger tips.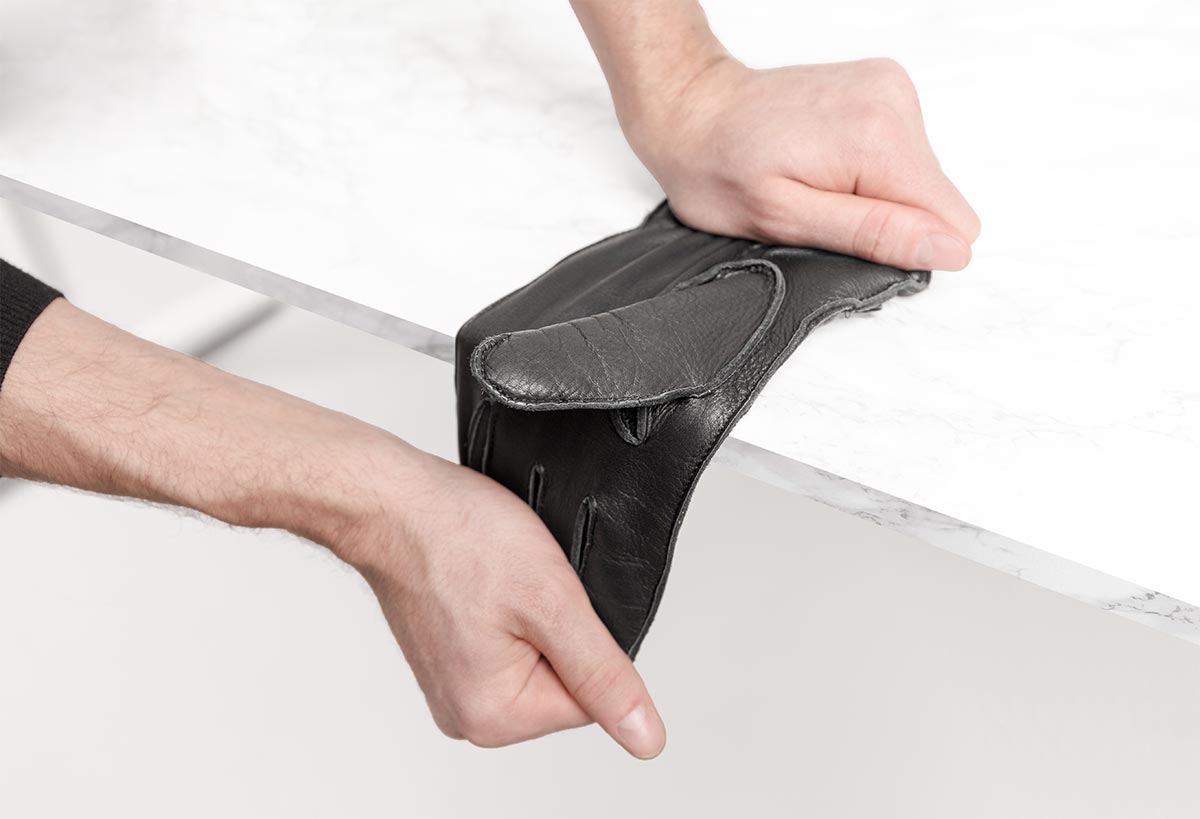 Cleaning
Leather gloves are delicate which is why we always advise to seek professional assistance for any kind of stain. If you want to treat your gloves pre-emptively, you can apply some colourless milking grease or leather care products. Wipe off any excessive care products. For smaller stains which have not dried yet, you can follow these care instructions at your own risk:
1) Prepare a lukewarm solution of soap with lots of natural fats. These fats will help prevent the glove from drying out.
2) Carefully wash the outside leather of the gloves with the solution. Make sure that the glove does not get too wet. Dab any excess water with a soft clean cloth.
3) Let the gloves dry naturally at room temperature on a flat surface and avoid any kind of heat source such as the sun, heater, dryer etc.
4) Put on your gloves several times during the drying process so that your gloves can reshape on your hands.
* Disclaimer: Please note that any care instruction displayed on this site serves as a suggestion only and we recommend to seek professional advice or help. Dalgado will not assume any responsibility for applying these care instructions.